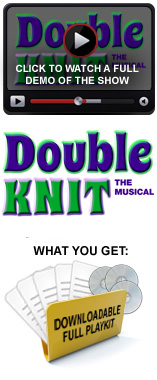 Permission to copy all products is granted to the purchaser of this playkit, for their group's performance only.
Double Knit: The Musical
Now the one-act play is a musical! By popular demand, we have adapted the script and added music to this already fun drama about siblings in the Bible who are portrayed in that great double knit era of the 60's and 70's.

The message is the same as the play: since we are a family of faith in Christ, we actually should have a stronger bond than other families. We are knit . . . double knit together by the flesh and blood of our oldest brother, Jesus.

PERFECT FOR YOUNGER OR OLDER STUDENT GROUPS! Production notes include information on putting together video and media components, staging, and costumes.
Can be performed with 10-12 characters with doubling, or more.
A One-Act Musical. Running time: 25-30 minutes.
This one-act musical includes:
• script
• vocal/piano score
• vocal-only score
• staging/production notes
• rhythm charts
• jpg artwork
• mp3 demo of all songs,
dramatic scenes
• mp3 stereo
accomp. tracks
Note: all downloadable print (pdf) and audio (mp3) files will be sent via the internet. Upon downloading, you can then make copies for your group. Only the optional multimedia accompaniment DVD is shipped through the mail.