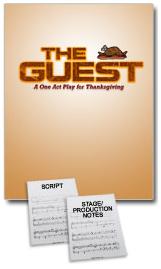 Permission to copy all products is granted to the purchaser of this playkit, for their group's performance only.
THE GUEST
The family has gathered for Thanksgiving Dinner . . . the in-laws, the grandma, the crazy aunt, but who's the guy sitting on the sofa? Everybody has a theory. Some think he's a TV repairman they had called to fix the set in the den, some think he's a TV anchorman doing a story on the perfect American family, some think he's a Pulitzer Prize Winning author they had once met at a fund raiser. Still Grandma's convinced he's a lawyer trying to get her to change her will. When The Guest's identity is finally revealed, the family makes a humbling discovery. A holiday message for everyone! Eleven characters, four men, six women, one girl.
A One-Act Play. Running time: 25 minutes. For mixed age cast.
This playkit includes:
• script
• staging/production notes
WATCH CLIPS FROM THE ORIGINAL PRODUCTION:
LISTEN TO THE DEMO CD: