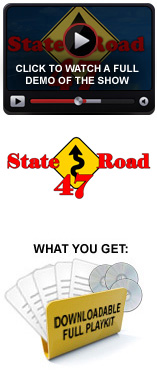 Permission to copy all products is granted to the purchaser of this playkit, for their group's performance only.
State Road 47
NEW LOWER PRICE!! Origally $275 - Save $80!
Three parables of Jesus (from the Gospel of Luke) that happened "along the road" are retold with hilarious characters and memorable music. Includes the Parable of the Sower and the Seed, The Good Samaritan, and the Prodigal Son. Requires a cast of at least 16 with doubling, but could accommodate up to 30 members.
A One-Act Musical. Running time: 60 minutes. For mixed-age cast, or students.
This one-act musical include:
• script
• piano/vocal music scores
• staging/production notes
• jpg artwork
• mp3 demo of all songs
• mp3 accompaniment tracks
Note: all downloadable print (pdf) and audio (mp3) files will be sent via the internet. Upon downloading, you can then make copies for your group.