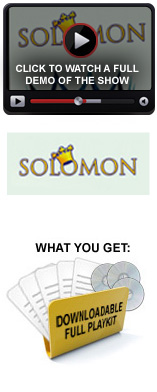 Permission to copy all products is granted to the purchaser of this playkit, for their group's performance only.
Solomon
NEW LOWER PRICE!! Origally $275 - Save $80!
The Wisest Man Who Ever Lived! Or was he? This musical tells the intriguing story of the life of King Solomon...third and last king of an ancient, united Israel. Characters include King David, Bathsheba, Ben-Arman (a camel trader) and his camels, the Queen of Sheba and just a few of Solomon's many wives. It's lots of fun, but also has a serious message. The cast may include up to 25 members, but less can be used with some doubling.
A Two-Act Musical. Running time: 75 minutes. For mixed age cast, or students.
This two-act muscial includes:
• script
• piano/vocal music scores
• staging/production notes
• jpg artwork
• mp3 demo of all songs
• mp3 accompaniment tracks
Note: all downloadable print (pdf) and audio (mp3) files will be sent via the internet. Upon downloading, you can then make copies for your group.