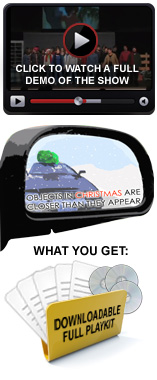 Permission to copy all products is granted to the purchaser of this playkit, for their group's performance only.
OBJECTS IN CHRISTMAS

(ARE CLOSER THAN THEY APPEAR)
NEW LOWER PRICE!!
Brandon is outta here…no more Christmas for him! Why? No one knows, but in this contemporary musical, we learn why Christmas is important! With a cast of a dozen or a large group, you can perform this using students or a mixed-age cast. Strong character development, wacky dialogue and some touching musical "moments."
A One-Act Musical for students or mixed-age. Running time: 45-50 minutes.
This one-act musical includes:
• script
• vocal/piano score
• vocal-only score
• staging/production notes
• rhythm charts
• jpg artwork
• mp3 demo of all songs,
dramatic scenes
• mp3 split-track and stereo
accomp. tracks
Additional Items For Sale:
• Downloadable Orchestrations
Note: all downloadable print (pdf) and audio (mp3) files will be sent via the internet. Upon downloading, you can then make copies for your group. Only the optional multimedia accompaniment DVD is shipped through the mail.