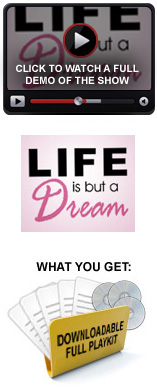 Permission to copy all products is granted to the purchaser of this playkit, for their group's performance only.
Life Is But A Dream
NEW LOWER PRICE!! Origally $275 - Save $80!
hat happens when life doesn't turn out the way you dream it? This musical production follows the lives of six people from childhood to adulthood as they struggle with hopes and dreams unfulfilled. As they interact with the "old gang," they flashback to the days of tree houses and buried time capsules.
A Two-Act Musical. Running time: 80 minutes. For mixed age cast.
This two-act musical includes:
• script
• piano/vocal music scores
• staging/production notes
• jpg artwork
• mp3 demo of all songs
• mp3 accompaniment tracks
Note: all downloadable print (pdf) and audio (mp3) files will be sent via the internet. Upon downloading, you can then make copies for your group.