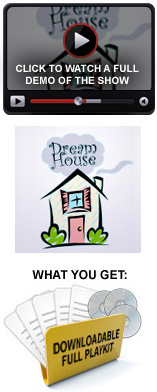 Permission to copy all products is granted to the purchaser of this playkit, for their group's performance only.
Dream House
NEW LOWER PRICE!! Origally $275 - Save $80!
Two young married couples...one in the city, one in the country...have each moved into brand new houses. Frank, the contractor who built the houses drops by each new place with a gift...a tool box to help the homeowners fix the little things that sometimes break. Because the two couples refuse to fix the little things early on, however, after a few years, the houses...and the relationships inside...are in bad shape. A cast of a minimum of 12 (plus four children) with doubling can perform this musical. The cast can be extended to up to 25 members.
A Two-Act Musical. Running time: 75 minutes. For mixed age cast.
This two-act musical includes:
• script
• piano/vocal music scores
• staging/production notes
• jpg artwork
• mp3 demo of all songs
• mp3 accompaniment tracks
Note: all downloadable print (pdf) and audio (mp3) files will be sent via the internet. Upon downloading, you can then make copies for your group.