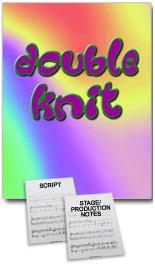 Permission to copy all products is granted to the purchaser of this playkit, for their group's performance only.
DOUBLE KNIT
This is a dramatic one act play with music and multi-media for students about famous siblings in the Bible. Using cool retro music like Sister Sledge's "We Are Family" and TV Sitcom classics such as The Waltons and Family Feud, we look at Biblical siblings as if they existed in those "double knit" days of the late 60's and 70's. The point that this fun production teaches is that since we are a family of faith in Christ, we actually should have a stronger bond than other families. We are knit . . . double knit together by the flesh and blood of our oldest brother, Jesus. Can be performed with 10-12 characters with doubling, or more. PERFECT FOR STUDENTS GROUPS! Production notes include information on musical scores and a resource for getting custom visual pieces that can accompany this production.
A One-Act Play. Running time: 20 minutes. For Students.
This playkit includes:
• script
• staging/production notes