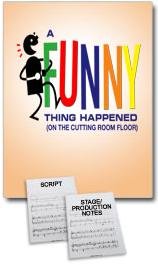 Permission to copy all products is granted to the purchaser of this playkit, for their group's performance only.
A FUNNY THING HAPPENED...

(ON THE CUTTING ROOM FLOOR)
Purely for fun! This short drama asks the question, "What would happen if a film editor somehow mistakenly spliced together clips from some of Ameria's greatest classic movies?" The answer is fun to perform with full costume and lights, or staged minimally. Either way, it's great for entertaining at banquets or parties. Adults or children can perform this with great flair. Add the movie themes and it's a hit! Requests 10 cast members, three male, four female, and three either gender
A One-Act Play. Running time: 15 minutes. For children.
This one-act play includes:
• script
• staging/production notes